2022 Mitsubishi Eclipse Cross in Halifax, Nova Scotia
2022 Mitsubishi Eclipse Cross in Halifax, Nova Scotia
Mitsubishi has unleashed the 2022 Mitsubishi Eclipse Cross, and the compact SUV is expected to be unveiled soon at authorized dealerships across Canada. As the premier Steele Mitsubishi dealership, we service Halifax, Nova Scotia, and serving Dartmouth, Bedford, Sackville, and Truro. You will find a variety of Mitsubishi automobiles at our dealership. Our team of professionals will assist you with all your automobile buying needs, whether new or used. Our expert mechanics check our used inventory. They will certify that the lot comes loaded with reliable Mitsubishi automobiles. Also, we have a finance team that will evaluate your purchase power to guide you toward the best available deals. To get a head start, begin your online finance application to get preapproval, and as always, we are here to assist you. You can depend on us for excellent customer service.
2022 Eclipse Cross Overview
The upcoming Eclipse Cross is redesigned from the 2021 model. It brings more muscle and packs more punch. It comes slated to lead the way in its class due to its improvements that bolster its sporty characteristics. Furthermore, it performs exceptionally well on the road with its new powerfully packed engine. The ride is smoother this year on the blacktop and can handle long drives all over Canada. It has more than adequate cargo space with excellent seating and amenities. New to the 2022 Eclipse Cross is its updated front and rear ends. It also adds a more extensive infotainment system that includes more tech features and is slightly closer to the driver. Therefore, manual adjustments come with fewer distractions and quicker recovery by placing his hands back on the steering wheel. Manual volume and tuning knobs come added in response to prior year owners' concerns. Mitsubishi brings a new grey colour to its leather upholstery options.
2022 Eclipse Cross in Halifax, Nova Scotia
2022 Eclipse Cross Interior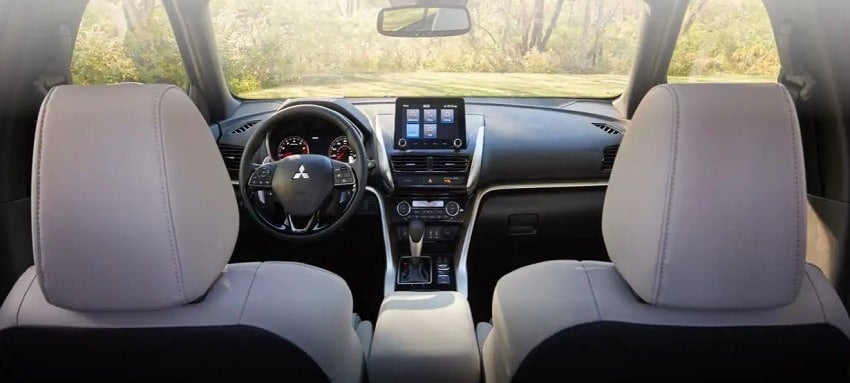 The 2022 Mitsubishi Eclipse Cross interior has surprised many with its updated materials, an upgrade over last year's model. An increase in cargo space is reported, promoting more luggage to be transported from city to city. Additional cargo space comes added when the back seat folds flat. Cubbyholes come strategically positioned in the cabin for easy and safe storage.
2022 Eclipse Cross Exterior
The evolution of the 2022 Mitsubishi Eclipse Cross exterior now includes the headlamps' innovative look. They are much sleeker this year with their piercing LED lighting. There is no reason to fret due to the fog lights adding to illuminating the roadways with the high beam rays. Also, the grille is like other high-end models within the Mitsubishi lineup. The doors appear more extensive than one would expect for a compact SUV. Consistent with most compact vehicles is the sloping roof, which aids in the performance of the automobile. The Eclipse Cross's rear has a sizeable rear door with a motorized windshield wiper and neutral-colour bumper. The taillights flash bright upon activation due to their LED setup. Slightly concealed are chrome tips that add to the sportiness of the vehicle.
2022 Eclipse Cross Performance
The revolutionary Eclipse Cross comes with a standard turbocharged four-cylinder engine. The four-cylinder engine comes with a continuously variable automatic transmission, which transitions between gears effortlessly. It can accelerate from a complete stop to 27 meters-per-second in about 8.6 seconds. On the blacktop, the new Cross is quieter than ever. The suspension responds well to bumps as there is minimal feel in the cabin, providing a quality ride. The driving and handling are excellent compared to those in its class. Its manoeuvrability is excellent, and it responds well when trying to park in tight quarters. Overall, the Cross is a perfect performing compact SUV with sufficient power and tow capacity. It averages 11 kph on the highway and provides quick bursts when needed to pass vehicles in the city too.
Contact Steele Mitsubishi Today!
At Steele Mitsubishi, an authorized Mitsubishi dealership, you will find sales associates, maintenance specialists, and a finance centre to help you find your 2022 Mitsubishi Eclipse Cross in Halifax, Nova Scotia. Please browse our online inventory, select your vehicle, and our finance centre will guide you through the online step-by-step process to get preapproval financing for the new Eclipse Cross. Our finance team will also locate the latest deals to help get you in the Eclipse Cross of your choice. We can also find your Cross's specific build if it is not on our lot through Car Finder and will have the vehicle to you within days. Do not hesitate. Contact us today.
Contact Us
Meet the Mitsubishi RVR Trims at Steele Mitsubishi in Halifax, NS
The latest Mitsubishi RVR has hit the market, and we're proud to report this popular crossover comes in a handful of compelling trims that would pique the interest of every kind of driver there is. This compact model is currently featured among our new inventory at Steele Mitsubishi, and we thought it only natural to introduce the 2021 RVR trims to our customers before they visit us for a closer look. Those based in Halifax, NS or any of the neighbouring areas of Truro, Sackville, Bedford, or Dartmouth can meet the new RVR lineup below and contact us to arrange a test drive of this new compact crossover at their leisure.