2021 Mitsubishi Outlander PHEV in Halifax, Nova Scotia
2021 Mitsubishi Outlander PHEV in Halifax, Nova Scotia
The mid-size SUV segment offers plenty of choices for automotive consumers from Dartmouth, Bedford, Sackville, Truro and surrounding areas of Halifax. However, there are only a handful of models that truly set themselves apart from the group. Each one, offering its own unique set of features and benefits. There is only one that offers consumers all the benefits of an SUV and electric vehicle. The 2021 Mitsubishi Outlander PHEV is the only mid-size SUV that has a plug-in hybrid system. At Steele Mitsubishi, we are excited for the arrival of the 2021 Mitsubishi Outlander PHEV and can't wait to showcase its amazing features. In the meantime, you are invited to get a pre-approval because it's never been easier. Complete our online finance application and you're ready to go.
Mitsubishi Outlander PHEV in Halifax, Nova Scotia
2021 Outlander PHEV Interior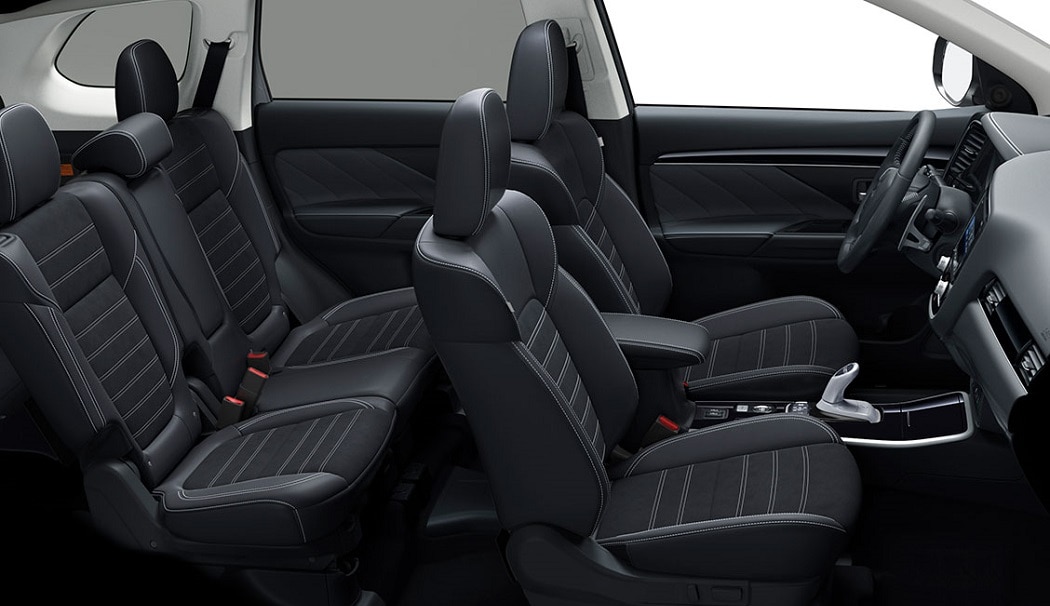 The 2021 Mitsubishi Outlander PHEV is expected to be available in a handful of different trims to satisfy even the pickiest critics. With an interior that's roomy, eye-catching and sure to please, the Outlander PHEV will benefit from world-class materials and finishes throughout its cabin. A large display that's ergonomically positioned showing important information and data such as; energy monitor, energy flow, eco meter and electric range, to name a few, will be made available to the driver providing ease of use and functionality. Front and rear seats that can accompany full-size adults will surely attract the whole family for those long journeys ahead. Power seats, an available rich leather interior, and a host of modern technologies round out the all-new 2021 Mitsubishi Outlander PHEV cabin.
2021 Outlander PHEV Exterior
2021 Outlander PHEV Exterior
An exterior that's both bold and stylish, the all-new 2021 Mitsubishi Outlander PHEV will be a welcome surprise for the eyes. With chrome accents throughout the exterior, LED front and rear lights, body-coloured accents, the 2021 Mitsubishi Outlander PHEV provides a harmonious flow that carries from the front air dam, goes over the sculptured hood all the way to the rear of the vehicle, complementing the sophisticated and refined SUV. A host of dealer-installed accessories such as; roof racks, bike carriers, wind deflectors and snowboard carriers will speak to the outdoorsy crowd who love to get out and find adventure with the all-new 2021 Mitsubishi Outlander PHEV. 10-year 160,000km powertrain warranty, 5-year 100,000km new vehicle warranty, 5-year unlimited km roadside assistance proves to be the best warranties in the business, providing customers with peace of mind at every step of their journey.
Performance and Efficiency
Since its launch in Canada, the Mitsubishi Outlander became the best-selling plug-in hybrid SUV to grace the Canadian market. Just when the market was getting comfortable and thought that the best-selling SUV could not get any better, Mitsubishi decided it could. With a complete redesign and a plethora of new hardware and features, the all-new 2021 Mitsubishi Outlander PHEV will also benefit from a new drive train. While the current 2.4L SOHC MIVEC 4-cylinder engine has proven itself, a larger engine displacement will produce more horsepower with better gains. Look for the electric drive system to get a refresh and upgrade, in the form of higher battery output that will increase the range of driving on full electric power, which the market has been hinting at. This should ensure that it stays the best-selling plug-in hybrid SUV in Canada and the world.
At Steele Mitsubishi, we can't wait to get you behind the wheel of your next vehicle. Browse our inventory of the new vehicles as well as used vehicles, and please let us know when you find the vehicle of your dreams.
Contact Us
Safety & Driver Assisted Technology
The Mitsubishi Outlander PHEV has always received top marks for safety and crash test ratings. The 2021 model will push the envelope even further with higher ratings and advanced safety for its occupants. As with the outgoing model, safety will be paramount with the 2021 Mitsubishi Outlander PHEV. The new model will include a host of intuitive safety features such as; adaptive cruise control, forward collision mitigation and lane departure warning. The multi-view camera system will always allow you to know exactly what is complemented by the blind-spot warning and rear cross-traffic alert systems. It is no wonder that when it comes to vehicle and driver-assisted technologies, the 2021 Mitsubishi Outlander PHEV helps you travel with confidence. With Mitsubishi's legendary super all-wheel control (S-AWC), the driver will always stay in control no matter the driving conditions.